No results were found for the filter!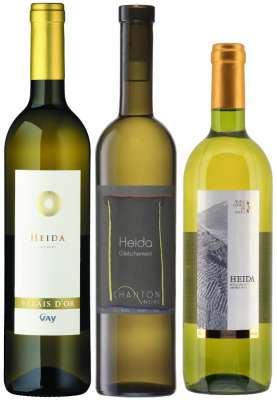 Heida tasting package
1 x Heida Valais d'or AOC 2019 1 x Heida Gletscherwein AOC Wallis 2018 1 x Heida Valais AOC 2019
Ticino Special
Cuvée Tamborini Bianco IGT Cuvée Tamborini Rosso IGT Poggio Solivo Viti Merlot del Ticino DOC Vallombrosa Bianco del Ticino DOC San Zeno Bianco Mosaico Bianco del Ticino DOC Tenuta San Domenico – Merlot del Malcantone - Ticino DOC -...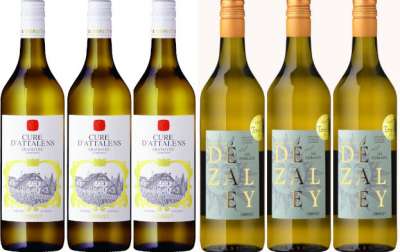 Unesco World Heritage Site Package
3 x Cure d'Attalens Grand Cru 2017 3 x Dézaley Grand Cru Les Egralets 2018
Gold Medal Sampler for the Mondial du Chasselas
Cure d'Attalens Grand Cru Fendant Les Mazots Dezaley Les Egralets Grand Cru Château Vinzel Grand Cru Château Maison Blanche Grand Cru Clos du Rocher Grand Cru
Content
0.75 Liter
(€162.67 * / 1 Liter)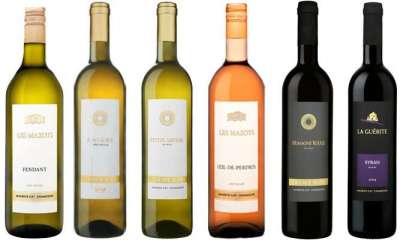 Valais Special
1x "Les Mazots" Fendant de Sion AOC 1x Amigne de Vétroz Valais d'or AOC du Valais 1x Petite Arvine du Valais AOC Valais d'Or 1x Oeil-de-Perdrix Valais AOC "Les Mazots" 1x "Valais d'Or" Humagne Rouge du Valais AOC 1x Syrah du Valais AOC...
Lake Geneva Special
1 bottle Yvorne Près Roc Grand Cru AOC Yvorne 1 bottle Dézaley Les Eglaretes AOC Lavaux 1 bottle St. Saphorin La Rédoute AOC Lavaux 1 bottle Château Vinzel Grand Cru AOC La Côte 1 bottle Aigle Les Murailles AOC Chablais 1 bottle Clos du...
rosé tasting package
We have put together a rosé tasting package for you with the following wines: 1 bottle of Oeil-de-Perdrix Valais AOC "Les Mazots" 1 bottle of Oeil-de-Perdrix AOC Neuchâtel from Jean-Christoph Porret 1 bottle of Oeil De Perdrix AOC...
Heida AOC du Valais 2019
Heida and Païen are Valais appellations for the Savagnin grape, which is notably used to produce the famous "vin jaune" (yellow wine) of the Jura. This variety of the Traminer family has been present in the Valais region since time...
Content
0.75 Liter
(€29.33 * / 1 Liter)